MINI MASTERPIECES — CALL FOR WORK!
OPENING Friday, January 17th, 2020 | 6:00pm
Revolution Gallery's group exhibit "MINI MASTERPIECES" was such a success this past January, we have decided to make this an annual show!
We invite you to submit to MINI MASTERPIECES – a group exhibit of all 5″ x 5″ works!  The theme is open to each artist's interpretation, with ONE restriction this year — please do not create artwork with skulls / skeletons as subject matter. By following this requirement, it offers an opportunity to explore and create even more diverse subjects and content for the artwork. As a friendly reminder – Revolution Gallery exhibits pop surrealism and focuses on figurative work. Submissions should be within this criteria. 
Mini Masterpieces Show will open on January 17th, and the exhibit will run through February 8th, 2020.
Artists are required to make their own 5″ x 5″ square hard board panel 1/8″ inch thick. Here is an ONLINE SOURCE for square hard board panels
SUBMISSION RULES
The gallery will review submissions via email only.
Deadline for digital image submission is December 20th, 2019 
Deadline for physical delivery of artwork to the gallery is January 10th, 2020 – any work delivered past this date will not be installed for the opening.
Original Artwork Only (drawings, paintings, mixed media)
International submissions accepted
Artists may submit up to FOUR 5″ x 5″ pieces for consideration. Each piece submitted must function as a stand alone work and not be part of a diptych or triptych.
Artwork should not be framed. Artwork should not have hanging hardware attached to the back. 
Retail price of each piece submitted must NOT exceed $300.(USD)
Please send one jpeg image for each piece submitted. Files should be 1000 pixels x 1000 pixels at 72 dpi and max file size to not exceed 2MB. Each piece submitted must follow these specifications. Please photograph artwork on a white or black background. Title each submission file as follows: YourLastName_Title-of-Artwork.jpg
Please include the following info for each work in the body of submission email:
Artist Name
Legal Name
Artwork Title
Media
Retail Price: (US Dollars)
Mailing Address
PayPal Address
Phone #
Send email submissions to info@RevolutionArtGallery.com
The subject line of your submission email should be MINI MASTERPIECES SHOW 2020 SUBMISSION
Artists will be notified with an "acceptance confirmation" email (per submission if their piece is accepted for the exhibit) by December 27th, 2019. Please DO NOT send artwork unless an acceptance email has been sent from the gallery. 
If work is accepted into the show, the artist will be responsible for shipping artwork to the gallery.
Please write your name and the title of your piece on the back side of artwork.
Commission on sales is a 50/50% split between the gallery and artist.
Unsold artwork will be returned at the gallery's expense. International artists pay for return shipping. Revolution Gallery reserves the right to keep work on display for a minimum of 3 months following the show.
The gallery may offer a 10% discount off the retail price, which artist and gallery split evenly.
Payments will be made via PayPal. You must have a PayPal account to submit your work to this show. Payments will be issued within 30 days of the end of the show.
Please contact the gallery with questions or concerns not addressed above.
Feel free to recommend other artists and share the Call For Work!
THE CONTENT OF THIS PAGE MUST BE COPIED AND PASTED TO THE BOTTOM OF YOUR SUBMISSION EMAIL. SUBMISSION INDICATES AGREEMENT WITH ALL TERMS OUTLINED.
Any email submission that does not have this necessary content will not be considered for exhibit for Mini Masterpieces.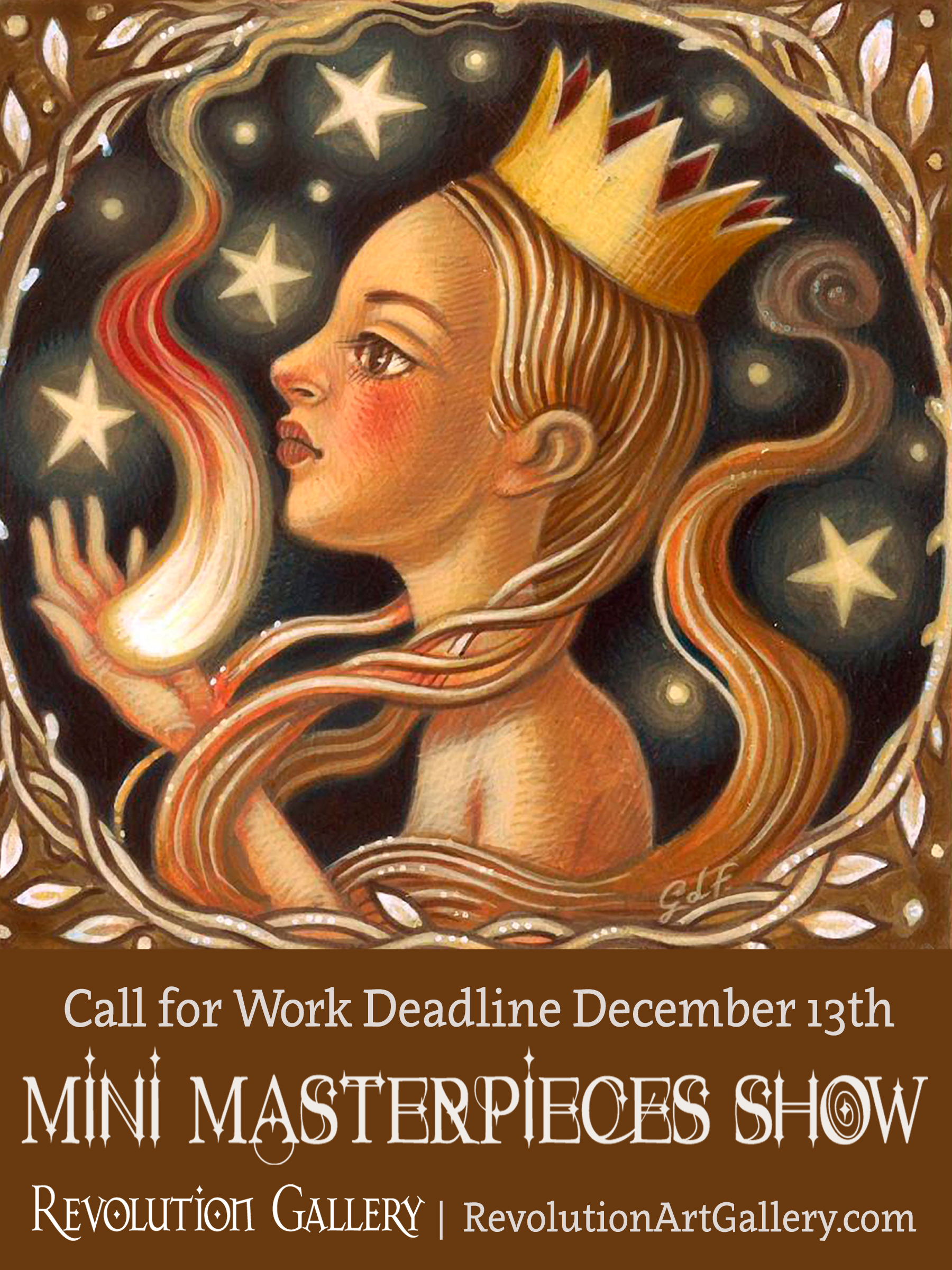 Gerlanda di Francia | "Girl Power" from Mini Masterpieces 2019