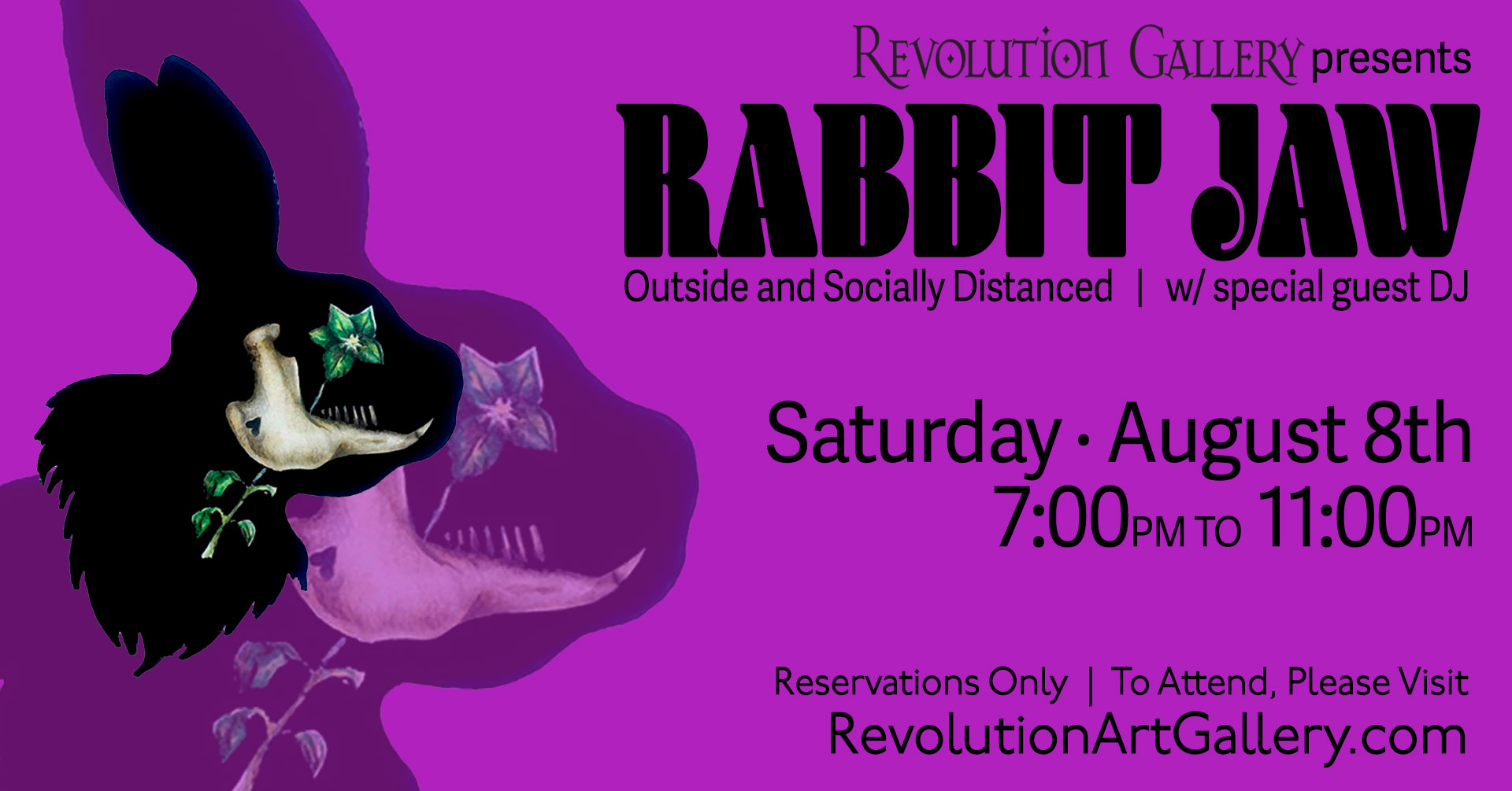 Make a Reservation!
Saturday  •  August 8th  •  7:00pm to 11:00pm
Enter the realm of magical human experience and creative expression at Revolution Gallery. Rabbit Jaw brings their unique, mesmerizing, and theatrical versions of well-known songs, as well as originals. Welcome to open-hearted rock-n-roll.
Revolution Gallery welcomes back Rabbit Jaw (with a special guest DJ). To ensure a safe and enjoyable performance for all, this show will take place outdoors, behind the gallery, with tables socially distanced. There is limited seating, so please reserve a table prior to this event. Reservations may be made up until 2:00pm, the day of the performance. Walk-ins will not be available for this show.
Doors at 6:00pm | Special Guest DJ at 7:00pm | Rabbit Jaw at 8:00pm
Please enter via the front door at 1419 Hertel Avenue. A staff member will meet you for check-in, and guests will be escorted through the gallery, to their reserved table.
A FEW THINGS TO NOTE PER COVID19 / NYS / CDC REGULATIONS:
All guests will be required to properly wear masks when moving throughout the gallery (limited to 8 guests at a time), walking to their reserved table, and when visiting the restroom.
Tables – not seats – will be reserved / purchased by one person in the party prior to the event. There are a variety of tables available: 2 seats, 4 seats, and 6 seats. No communal seating is permitted — all guests at the table must be from the same party – combining separate parties at a single table is not permitted.
A $20. minimum purchase (per person) is required from the Revolution Gallery food and drink menu.
All alcohol and food orders will be served to attendees at the tables by Revolution Gallery staff, as there will NOT be walk-up bar service available. Masks may be removed when visitors are seated at their designated table to enjoy their drinks and food.
The reservations / tickets are sold as a table, not as individual tickets. Tables for two / four / or six guests are available. Reservations / tickets are priced per the number of guests allowable to that selected table. For example, tickets are $12. / person, so a reserved table of 4 will be $48. total to reserve.
Tables and chairs may not be moved from their spot for any reason.
On Eventbrite – Refer to the seating chart based on the number of guests attending in your group. Each table has the seat capacity labeled. For example, Table 1 has 2 seats, indicated by the smaller number (the seats) next to the larger number (the table).
Open tabs may be split at the end of the event for bar and food.
IMPORTANT NOTE: To help protect our guests, we are only accepting contactless payments. WE DO NOT ACCEPT CASH – PLEASE PAY WITH CREDIT OR DEBIT CARD. Guests may also pay via Venmo to @RevolutionGallery
"LUCKY ONE" artwork by Kelly Vetter @kellyvetter