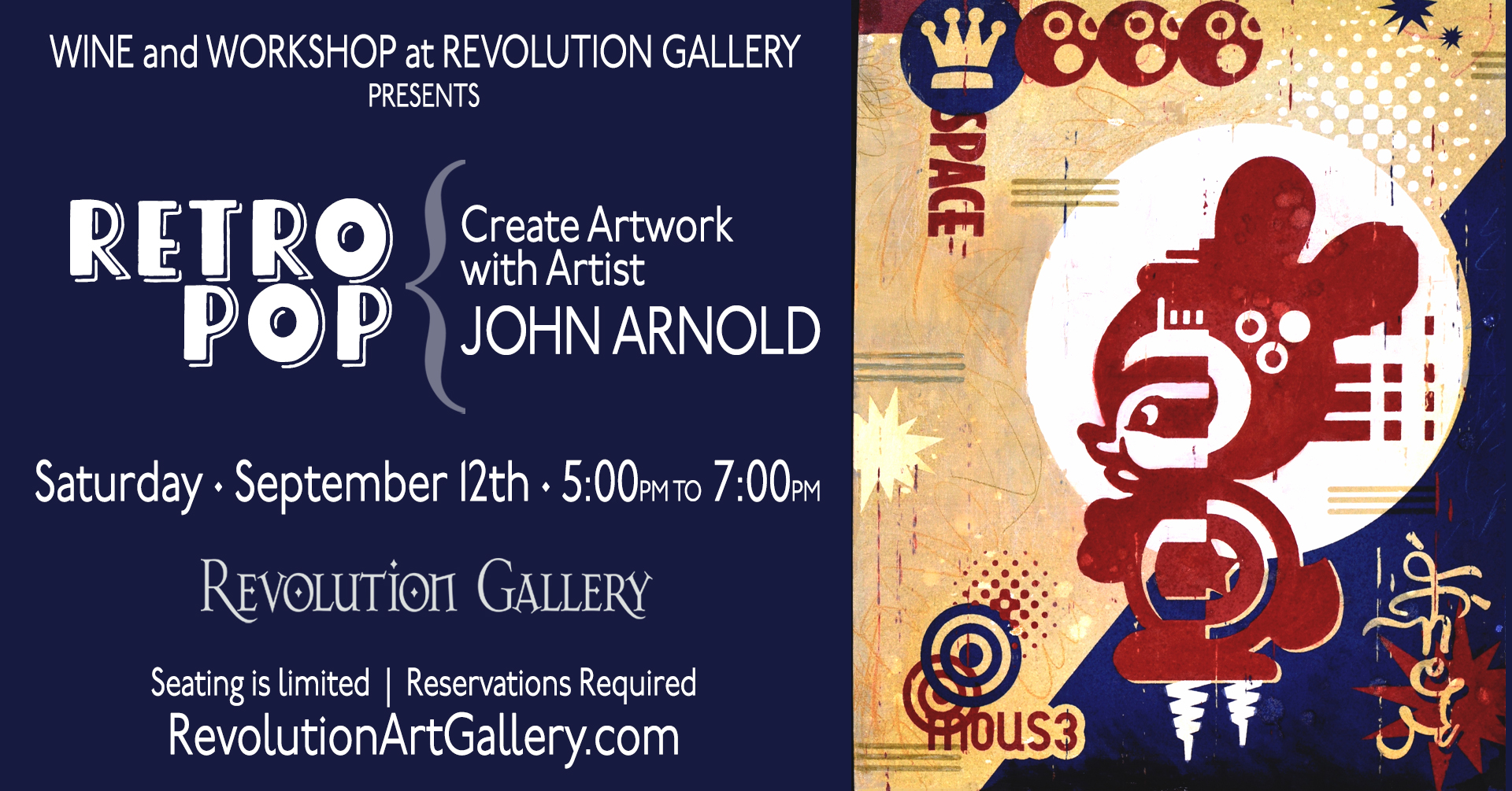 Retro Pop Workshop – Make a Reservation!
Saturday  •  September 12th  •  5:00pm to 7:00pm  •  $50.
Wine and Workshops at Revolution Gallery presents "Retro Pop – Create Art with John Arnold."
Our latest exhibit "Dribz and Drabz – a solo show of new artwork by John Arnold" showcases his latest creations of retro-inspired, and highly textured pop art. Learn techniques from the artist himself in this two hour workshop to create your own vintage book cover artwork. Our cash wine and beer bar will be open for this workshop, as well as food available from our café menu.
Saturday is the final day of the "Dribz and Drabz" exhibit; the price of the workshop may be used towards a purchase of any of John's original artwork from his solo show!
Seating is limited (and socially distanced). Purchase a seat for the workshop to reserve your spot. The price includes all supplies necessary to create your artwork. Click the product link below to reserve!
A FEW IMPORTANT THINGS TO NOTE PER COVID19 / NYS / CDC REQUIREMENTS and REGULATIONS
Reservations are necessary, and are held via purchasing your spot – SEATING IS LIMITED and SOCIALLY DISTANCED.
All guests will be required to properly wear masks when inside gallery, to use restroom or to view artwork from our latest exhibit "Dribz & Drabz" – a solo show of new artwork by John Arnold. Guests also need to properly wear masks when walking to their reserved table, or anytime they are standing and moving about the patio, or inside the gallery. Masks may be removed when visitors are seated at their designated table to enjoy their drinks / food.
All alcohol and food orders will be served to attendees at the tables by Revolution Gallery staff, as there will NOT be walk-up bar service available.
Tables and chairs may not be moved from their spot for any reason.
IMPORTANT NOTE: To help protect our guests, we are only accepting contactless payments. WE DO NOT ACCEPT CASH – PLEASE PAY WITH CREDIT OR DEBIT CARD. Guests may also pay via Venmo to @RevolutionGallery