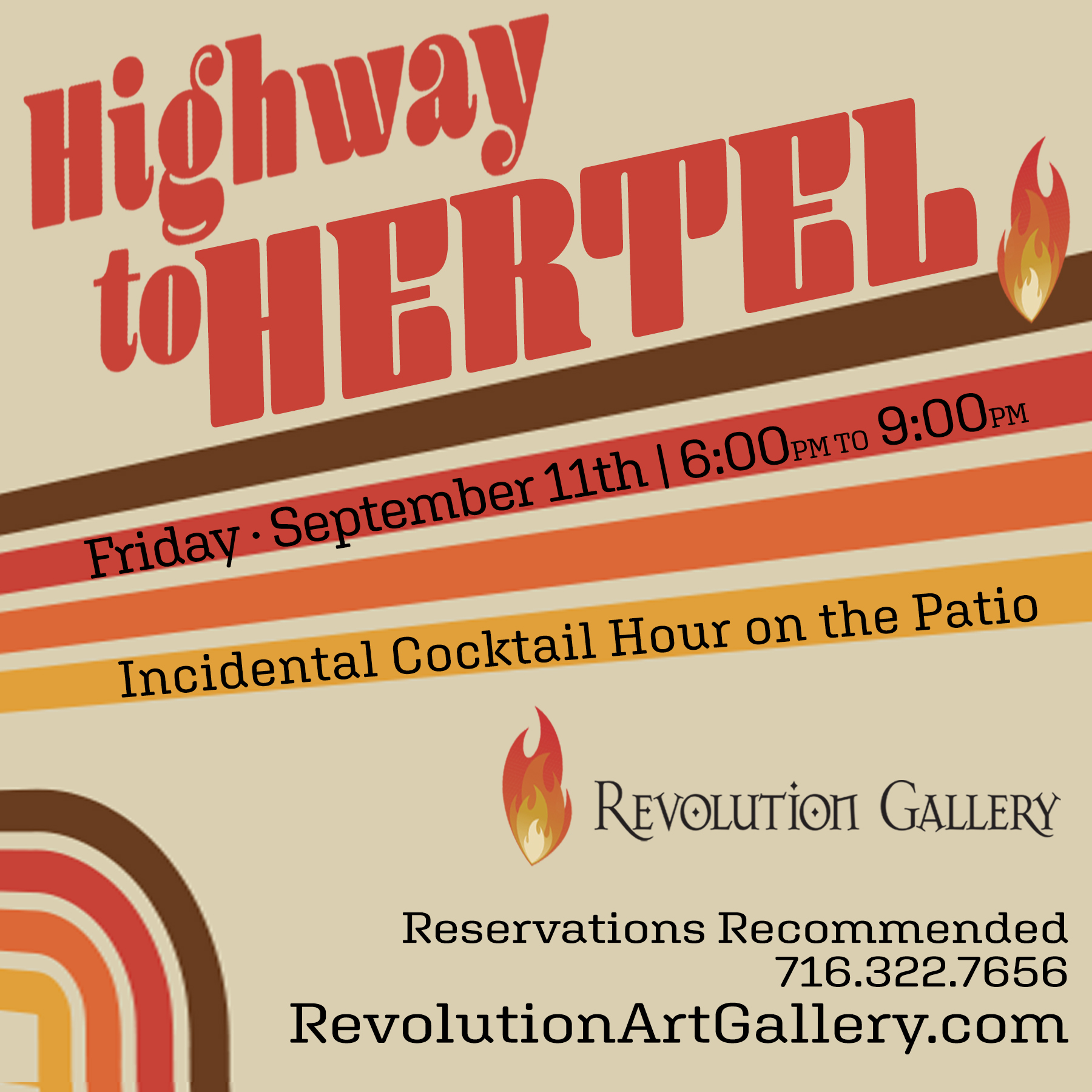 Highway to Hertel – Make a Reservation!
Friday  •  September 11th  •  6:00pm to 9:00pm   •  FREE
HIGHWAY TO HERTEL Cocktail Hour – A socially distanced, dinner, drinks, and listening get-together on our patio.
Enjoy the "Dr. Wisz" Pizza added to our Specials Menu on the patio – available only from 6:00pm to 9:00pm on Friday!
Reservations are for tables of 2 or more– SEATING IS LIMITED and SOCIALLY DISTANCED.
Reserve your table for this FREE event! Call 716.322.7656
A FEW IMPORTANT THINGS TO NOTE PER COVID19 / NYS / CDC REQUIREMENTS and REGULATIONS:
All guests will be required to properly wear masks when going inside gallery to use restroom or to view artwork from our latest exhibit "Dribz & Drabz" – a solo show of new artwork by John Arnold. Guests also need to properly wear masks when walking to their reserved table on the patio, or anytime they are standing and moving about the patio. Masks may be removed when visitors are seated at their designated table to enjoy their drinks and food.
Tables – not seats – will be reserved by one person in the party prior to the event. There are seven socially distanced tables, with 2 seats per table. No communal seating is permitted — all guests at the table must be from the same party – combining separate parties at a single table is not permitted.
A $20. minimum purchase (per person) is required from the Revolution Gallery food and drink menu, and a tab will be opened via our contactless payment system when guests have been seated.
All alcohol and food orders will be served to attendees at the tables by Revolution Gallery staff, as there will NOT be walk-up bar service available.
Tables and chairs may not be moved from their spot for any reason.
Open tabs for bar and food may be split at the end of the event.
IMPORTANT NOTE: To help protect our guests, we are only accepting contactless payments. WE DO NOT ACCEPT CASH – PLEASE PAY WITH CREDIT OR DEBIT CARD. Guests may also pay via Venmo to @RevolutionGallery