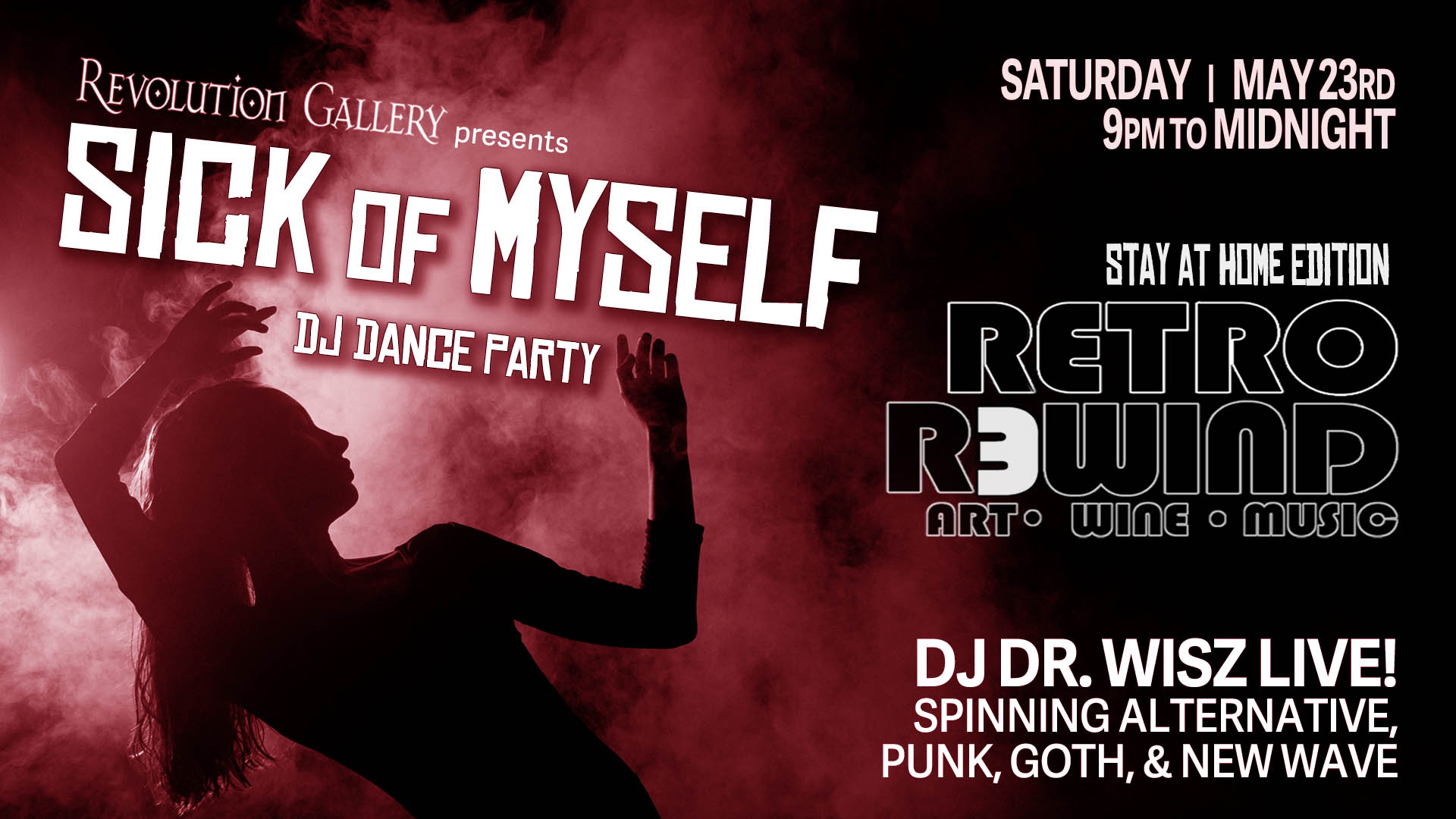 "SICK OF MYSELF"
Retro Rewind DJ Dance Party at Home Edition
Saturday, May 23rd | 9:00pm – midnight
This Saturday, May 23rd (9:00pm to midnight) Revolution Gallery's Retro Rewind returns with "Sick of Myself"  – a stay at home edition of our monthly DJ Dance Party, and a virtual event to support the gallery! Donations during Retro Rewind may be made via Venmo @RevolutionGallery 
DJ Dr. Wisz may be isolating at home – but he will be playing his all vinyl selections of alternative, punk, goth, and new wave. Join the chat and request a song for him to spin.
Pre-event Curbside Pickup!
Retro Rewind stay at home edition has "Retro Takeout Packages." Pickup is from 6:00pm to 8:00pm for a pre-event curbside pick-up. Package includes Truffled Tater Tots, a choice of House Wine Bubbles Rosé, Cabernet Sauvignon, Sauvignon Blanc, PBR, House Margarita, Spicy Margarita, and Hazelnut Martini (prices vary) – and a 5" x 7" matted print as a thank you from the gallery. Proof of ID required for pickup.
MAKE SURE TO PRE-ORDER BY THURSDAY, May 22nd by 5:00pm.
Join Retro Rewind via Zoom at 9:00pm
Meeting ID: 983 0702 1101   Password: 344138
Using earbuds / headphones / external speakers or sound bars is recommended!