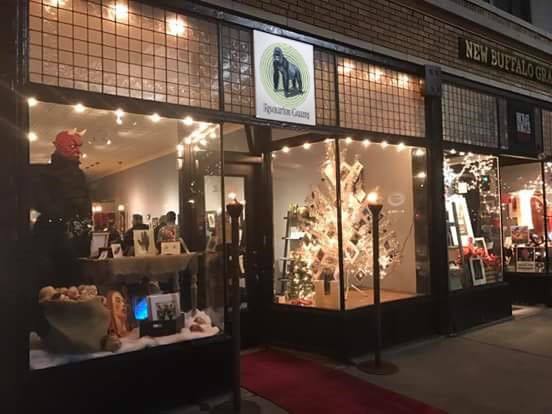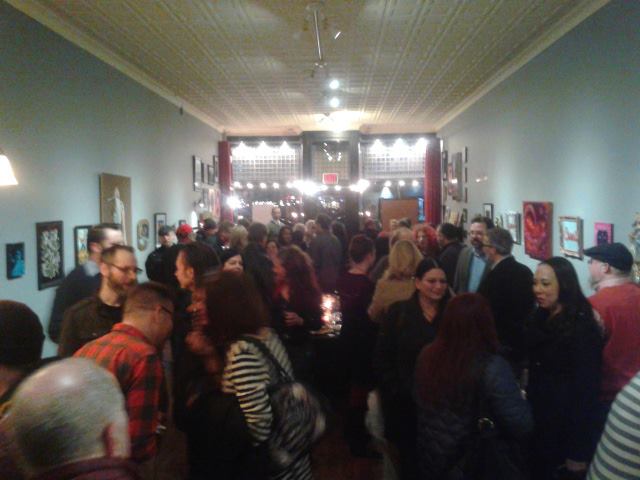 WELCOME TO REVOLUTION GALLERY
Revolution Gallery represents contemporary artists in an original and inviting location. Showcasing the talented endeavors of each artist, our objective is to incite creativity, encourage thoughtful insight, and offer artistic diversity to the community.
The gallery is committed to presenting artwork that is provocative and imbued with dark beauty, emotion, and mystery. Revolution Gallery shows artwork with an emphasis on pop-surrealism and contemporary figurative work, in a wide-range of media.
Revolution Gallery, located in a thriving Buffalo neighborhood, hosts regular exhibits year round of local, national, and international artists, and available as an online presence on our website.
With the addition of our wine bar at the back of the gallery, patrons may enjoy a glass of wine or a craft beer while viewing the latest exhibit, our "cash and carry" section of original artwork and prints, and the Revolution Gallery merchandise section with unique items.
CRAIG LAROTONDA
owner and director of Revolution Gallery
Craig LaRotonda has developed an incomparable brand of neo surrealist figurative work. His art has appeared in feature-length motion pictures as well as published in print on the covers of books, album covers and national magazines.
LaRotonda's works are produced using oil, acrylic, wood, paper, wax, gold leaf and found-objects to create paintings and sculptures that are richly layered and provocative. His signature iconic style depicts both the carnal and the spiritual — the profane and the sublime, all realized with a contemporary twist. His surreal creatures are captured in a timeless dream space — surviving the brutality and beauty of existence.
Revelation Studios – LaRotonda's fine art and commercial studio – was established in Buffalo in 1995. Craig moved his studio to San Francisco where he would open Revelation Gallery. After nearly a decade in California, Craig moved to NYC where he would continue to expand his craft. Now residing in Buffalo, NY, Craig and Maria Pabico LaRotonda have recently created and opened Revolution Gallery bringing a new perspective to the area.
Collections of LaRotonda's work can be found worldwide. Exhibitions include solo shows in, Los Angeles, New York, Buffalo, San Francisco and Paris.


MARIA PABICO LAROTONDA
curator of Revolution Gallery
Maria is a graphic / web designer who is also a fine artist creating digital paintings. After photographing figures for her artwork, the digital collages are sometimes 100 layers deep, and are printed as giclées (sometimes as limited editions), and the final result has an environment with hints of the recognizable real world, while still being grounded in the fantastical. Maria has shown in Los Angeles and throughout galleries in New York.
Maria has been teaching fine art and graphic design at several local colleges for the last eighteen years. In her second year as the Gallery and Art Collection Director at a four year university, she has experience curating shows, installing and hanging artwork, coordinating opening receptions, handling sales with clients, and advertising exhibitions.