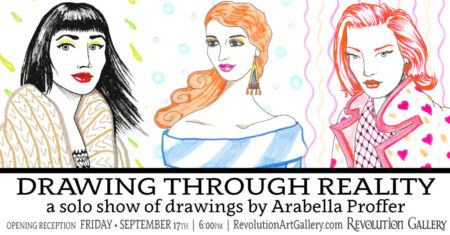 DRAWING THROUGH REALITY – A solo show of new drawings by Arabella Proffer
Opening • Friday, September 17th  |  6:00pm to 9:00pm
Revolution Gallery is pleased to announce a special solo show by artist Arabella Proffer (opening reception Friday, September 17th at 6:00pm, with a press preview on Thursday, September 16th at 6:00pm). 
After being diagnosed with terminal cancer during a pandemic, Arabella found herself unable to paint anymore. This was physical but mental as well. To cope with it all, she did what anyone would do: watched marathons of "Real Housewives." What began as little pencil sketches of faces — a distraction from a distraction, something to do with her hands that were slowly losing dexterity, became a habit. Little portraits, faces of women in outrageous prints and clothes, emerged while Arabella was re-learning to use a pen. 
Drawn in loose colorful lines, these small jewel-like drawings are reminiscent of fashion illustrations whose occasional gaze at the viewer share a likeness with classical portraits. These fashionable women can be found dressed in punk, goth, glam, and loud patterned clothing with candy colored hair to match. 
The Housewives may have played as unconscious inspiration, but these are not portraits of THE Housewives. These are made-up characters; women whose composition came naturally without reference. This was a distraction from a distraction, after all. 
Revolution Gallery has been connected to Arabella Proffer's work professionally and personally for years, and we are pleased to present her upcoming exhibit at the gallery – "Drawing Through Reality: A solo show of drawings." Intense emotions surround  this body of artwork: and  we — as a gallery, artistic  peers, and supportive friends — are looking forward to sharing all she has created.
About Arabella Proffer
"I'm a painter, troublemaker, terminally ill with cancer, and part-time record label chick. My work has been called everything from Surrealism to Biomorphism to Magical Realism. Did I mention I have a bionic right leg?
I've shown my art all over the world and have been featured in The Wall Street Journal, The Plain Dealer, The Harvard Gazette, SF Weekly, Dallas Arts Review, Cincinnati Magazine, Juxtapoz, Creep Machine, Supersonic Electronic, Hi Fructose, HyperAllergic, CAN Journal, The Portland Review and more.
I grew up in Ann Arbor, Michigan, before moving to Laguna Beach (luckily I went to high school there before the reality show) and received my BFA from CalArts. Bummed around the California desert, was a Hollywood scenester, and was even in Boston for a second. I've lived and worked in Cleveland, Ohio since 2004. I do art stuffs, travel, and spend a lot of time at the hospital.
There's a novelist and rock 'n' roll historian named Ben Vendetta I'm married to, and we have two kitties named Ike and Tina."