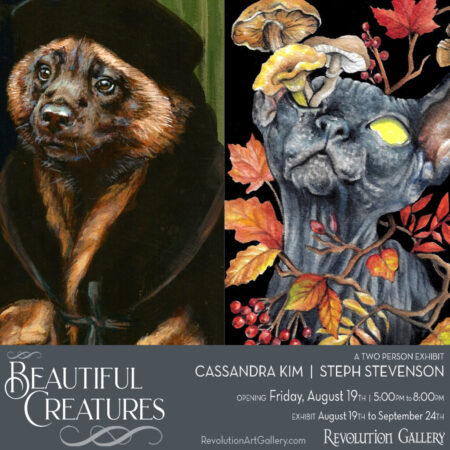 BEAUTIFUL CREATURES –
a two Person Exhibit with Cassandra Kim and Steph Stevenson
Opening • Friday, August 19th  |  5:00pm to 8:00pm
Revolution Gallery is honored to exhibit the artwork of Cassandra Kim and Steph Stevenson
STEPH STEVENSON — "Combining elements of beauty and horror in nature through means of artwork. I enjoy playing with the juxtaposition and creating a sense of intriguing uneasiness. I enjoy working in multiple "styles" to provide endless flexibility in order to best express myself through my artwork.
​When I'm not creating art you can find me adventuring outside, watching cheesy horror movies and going to metal shows"
CASSANDRA KIM — "By taking inspiration from paintings of the past and replacing the people with animals, I seek to have my audience reconnect with the traditions of portraiture. My art spans the centuries between the original and today, but with a surrealistic twist. Pairing an unexpected animal with an image from the echelons of past society creates a visual paradox that inadvertently "humanizes" the portraiture and often makes people smile. The use of humor is a valuable way to break down barriers between people and art.
I work in acrylic and oil, and my goal is to reproduce the rich, lush colors of classical portraiture. Each of my hand-chosen vintage or antique frames is a talisman to an imagined memory and provides impetus for the painting. The frame or reclaimed wood item, which I often restore myself, creates the impression of an art movement or time period, which in turn guides me to the appropriate portrait. I then brainstorm to find the right animal to create the perfect painting. The final product allows the audience to feel reconnected with classic portraiture, but from an imagined society of animals. They feel included, amused, and ultimately curious."
PREVIEW AVAILABLE SOON!