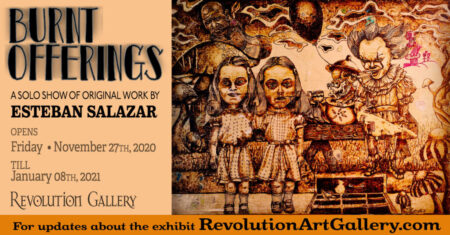 Burnt Offerings – solo show of original work by Esteban Salazar
Friday • November 27th, 2020 to Saturday • January 9th, 2021
Pyrography artist Esteban Salazar's work takes a critical view of social, political and cultural issues. By referencing American pop culture, the artist illustrates the conflicts and harmonies between reality and fiction, good vs evil, and the yin and yang. 
Influenced by Chicano art, and Surrealism ("Chicano-sur-pop-adelic"), Salazar uses "Pyrography" – the art or technique of decorating a surface by burning a design on it with a heated metallic point. He developed this style after transitioning from painting and sculpture to burning sepia images on to wood. 
Esteban's new solo show "Burnt Offerings" is created entirely on vintage wood with a woodburner. Salazar references familiar visuals and arranges them into new layered concepts with humor and satire.
The opening will be dependent on Covid19 Regulations in NYS. Either in person (socially distanced, very limited seating, timed-reservations only), and / or as a virtual event.