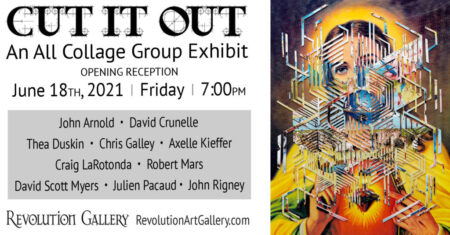 CUT IT OUT – an All Collage Group Exhibit
Opening • Friday, June 18th  |  7:00pm to 11:30pm
Revolution Gallery's latest exhibit CUT IT OUT – an All Collage Art Exhibit opens Friday, June 18th at 7:00pm, in Gallery Two. New and original artwork created for this group show offers work by
John Arnold
David Crunelle
Thea Duskin
Chris Galley
Axelle Kieffer

Craig LaRotonda
Robert Mars
David Scott Myers
Julien Pacaud
John Rigney



Music provided by DJ Donut aka Justin Rowland (and a few surprise guest DJs).
A FEW IMPORTANT THINGS TO NOTE PER COVID19 / NYS / CDC REQUIREMENTS and REGULATIONS:
Unvaccinated guests are required to properly wear masks when walking to their table or anytime they are standing and moving about the gallery or patio. Masks may be removed when guests are seated at at table to enjoy their drinks and /or food.
IMPORTANT NOTE: To help protect our guests, we do accept cash, however prefer credit / debit card payments – PLEASE PAY WITH CREDIT OR DEBIT CARD. Guests may also pay via Venmo to @RevolutionGallery