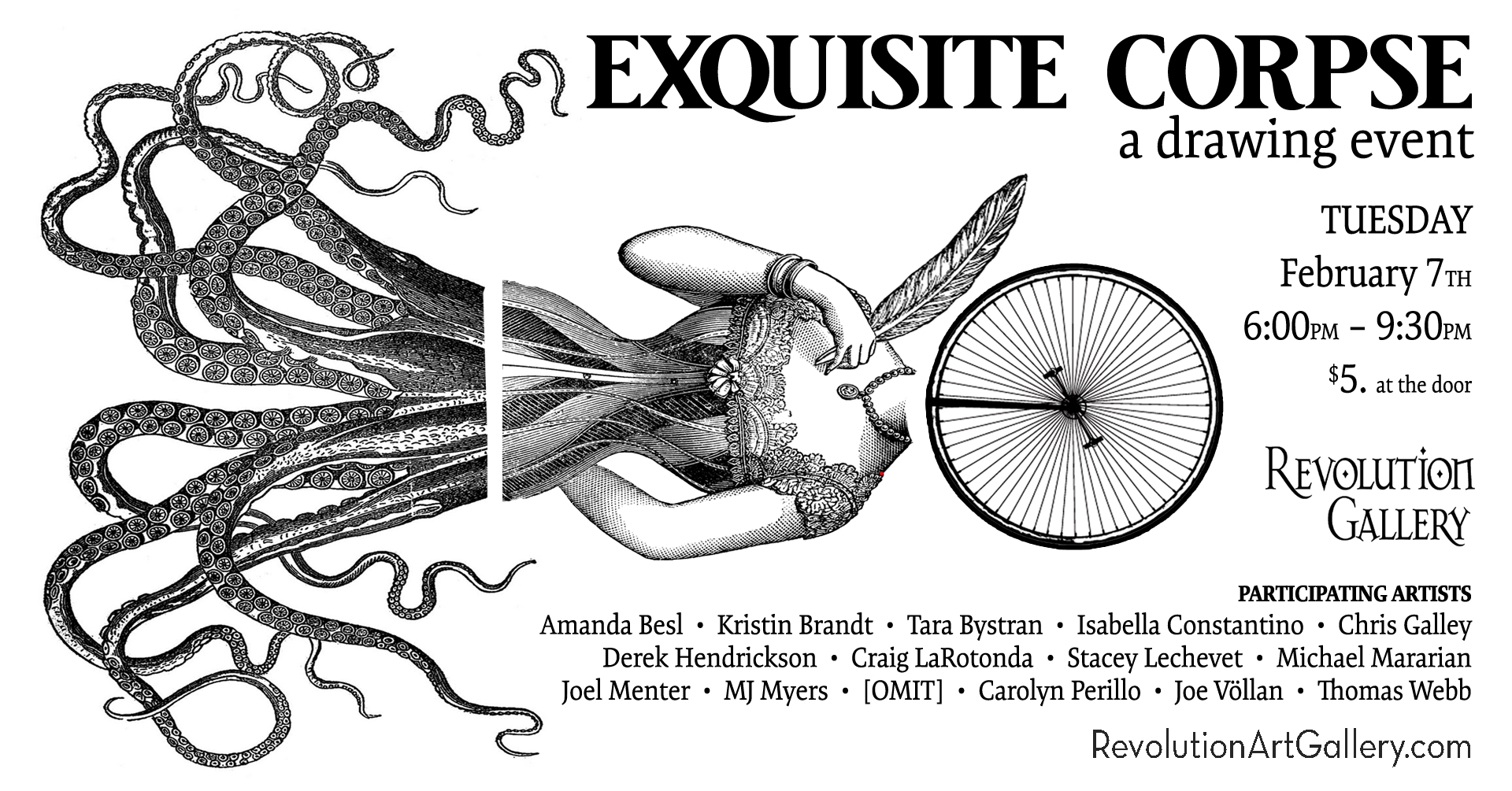 EXQUISITE CORPSE – a drawing event!
Tuesday • February 7th 2023  |  Doors at 6:00pm  |  $5.  |  21+
What is an "Exquisite Corpse?" – "A Victorian parlor game in which each participant takes turns writing or drawing on a sheet of paper, folding it to conceal his or her contribution, and then passing it to the next player for a further contribution."*
Revolution Gallery has gathered artists to partake in a drawing game of Exquisite Corpse!
Participating artists – Amanda Besl, Kristin Brandt, Tara Bystran, Isabella Constantino, Chris Galley, Derek Hendrickson,  Craig LaRotonda, Stacey Lechevet, Michael Mararian, Joel Menter, MJ Myers, [OMIT], Carolyn Perillo, Joe Völlan, Thomas Webb… and more!
There will be two rounds of drawing – the first 6:15pm to 7:15pm, and the second from 7:30pm to 8:30pm.
We will be having three artists on a team.
Each artist gets 20 minutes to draw on their section of the paper, with the other two sections hidden / folded from their view while they draw.
At the end of 60 minutes, all three panels of the finished artwork will be revealed, and displayed for guests to bid on.
We also welcome The Traveling Museum of Memento Mori to this event. Guests will be able to see and interact with artifacts from the Victorian mourning era (with some items over 150 years old!). Jewelry and artwork made of human hair, "tear catchers," clothing, spirit photos, coffin plaques, and even post-mortem photos will be on display to remind ourselves of memento mori… someday we must die.
Live drawings, art in the gallery, drinks at our bar, and a DJ!
This event is 21+(with valid ID)