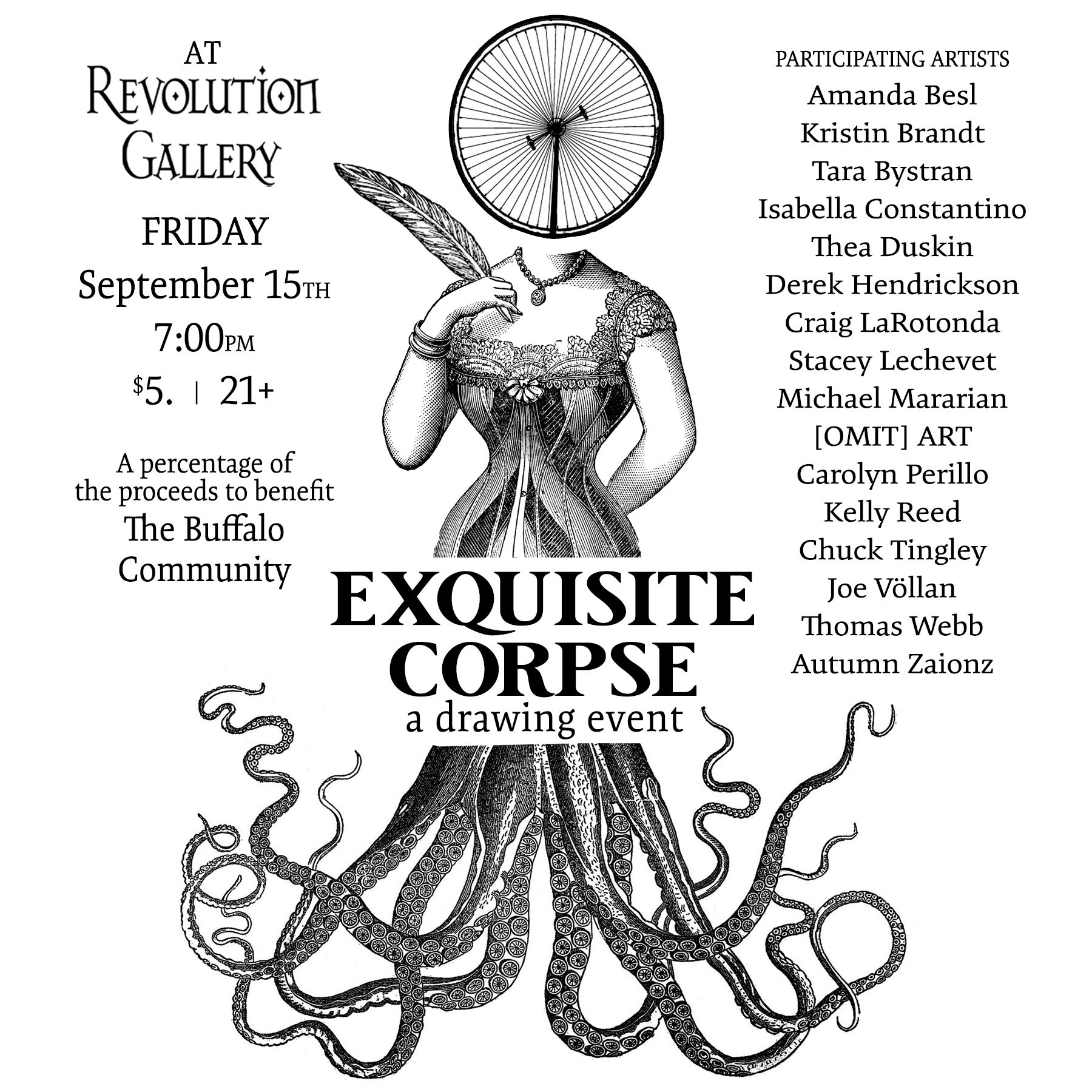 2nd Annual Exquisite Corpse  |  Friday • September 15th, 2023  |  Doors at 7:00pm  |  21+ 
We are excited for EXQUISITE CORPSE Drawing event this Friday! 
"Exquisite Corpse" is now officially "an annual event" at Revolution Gallery! It was a wonderful success this past winter, and we are excited to have our 2nd one on FRIDAY, September 15th!
Here's the event info – 
Doors at 7:00pm, $5. cover, 21+ only with valid IDs. There will be two rounds of drawing – the first 7:15pm to 8:30pm, and the second from 8:45pm to 10:00pm.
There will be three artists per team.
This time, each artist gets an extra five minutes – increased from 20 to 25 minutes –  to draw on their section of the paper with the other two sections hidden / folded from their view while they draw.
At the end of 75 minutes, all three panels of the finished artwork will be revealed, and displayed for guests to bid on.
A percentage of the sale of the artwork goes to the artists (we support art and artists!), and a portion of the proceeds that evening will be donated to the Buffalo Community Fridge.
Participating artists –
Amanda Besl, Kristin Brandt, Tara Bystran, Isabella Constantino, Thea Duskin, Derek Hendrickson, Craig LaRotonda, Stacey Lechevet, Michael Mararian, OMIT, Carolyn Perillo, Kelly Reed, Chuck Tingley, Thomas Webb, Joe Völlan, and Autumn Zaionz
21+ with valid ID