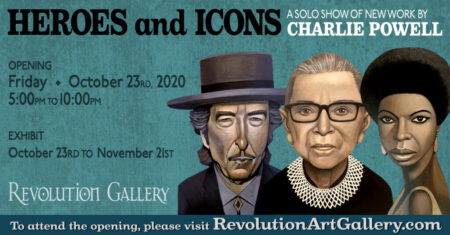 Heroes and Icons – solo show of new work by Charlie Powell
Friday, September 23rd to Saturday, November 21st
Charlie Powell is an artist and illustrator living in Santa Cruz, CA. He graduated with honors from California College of the Arts, and while there launched his career as an illustrator.
This latest show focuses on Heroes and Icons from our culture; politics, music, sports… pop culture. What defines and endears these heroes and icons to us as a collective? Meticulously created with acrylic on cutout wood panel, these portraits have a style reminiscent to mannerism, with a nod to the world of caricature drawings; controlled, thoughtful and sensitive to detail, gesture, and the recognizability of his subject, without being overblown. 
His work has appeared in many publications, including The New York Times, The Washington Post, The Nation, The Wall Street Journal, Fortune, Forbes, Wired, The New Republic, and American Airlines. His work has been included in 3 X 3 Illustration Annuals 10 and 12, and chosen for American Illustration 31.