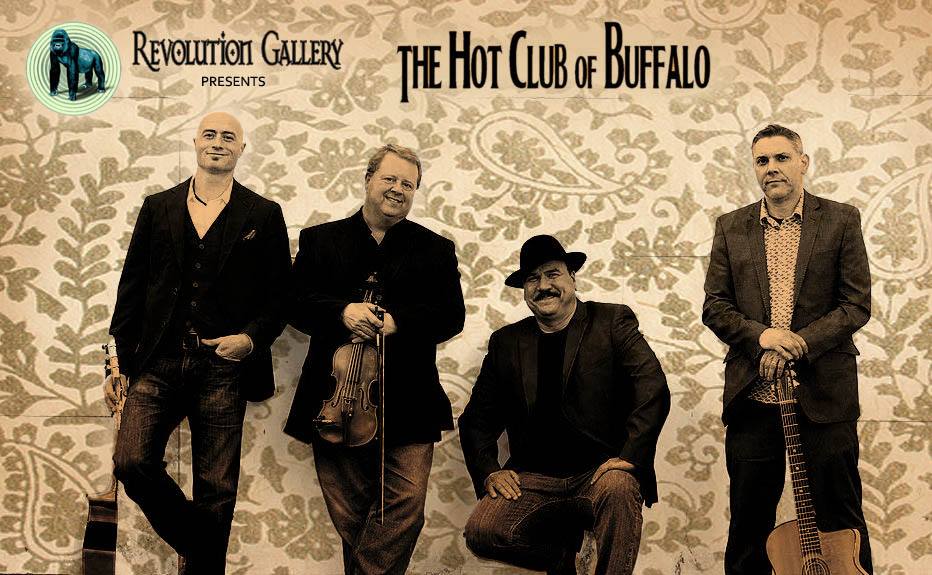 THE HOT CLUB OF BUFFALO
Friday  |  November 30th | 8:00pm
Join us for a live performance by The Hot Club of Buffalo, Friday night Nov. 30th playing the Side Stage at Revolution Gallery for a swinging good time of live gypsy jazz! Great art, drinks and music. Hope to see you there! Doors 8.
About The Hot Club of Buffalo
The Hot Club of Buffalo plays a special form of jazz known as Gypsy Swing, which was created in the 1930's by the legendary 2-fingered guitarist, Django Reinhardt. The style blends American big band swing with exotic European Gypsy sounds. The Hot Club approaches this vintage music with a modern sensibility, adding elements of rock and world music.
The band features Josh Assad on guitar & vocals and Kevin O'Brien on upright bass; both were members of the renowned gypsy jazz band, Babik. Joining them are virtuosic lead guitarist Dean Gionis and super-swinging violinist, E.J. Koeppel.
$10. at the door