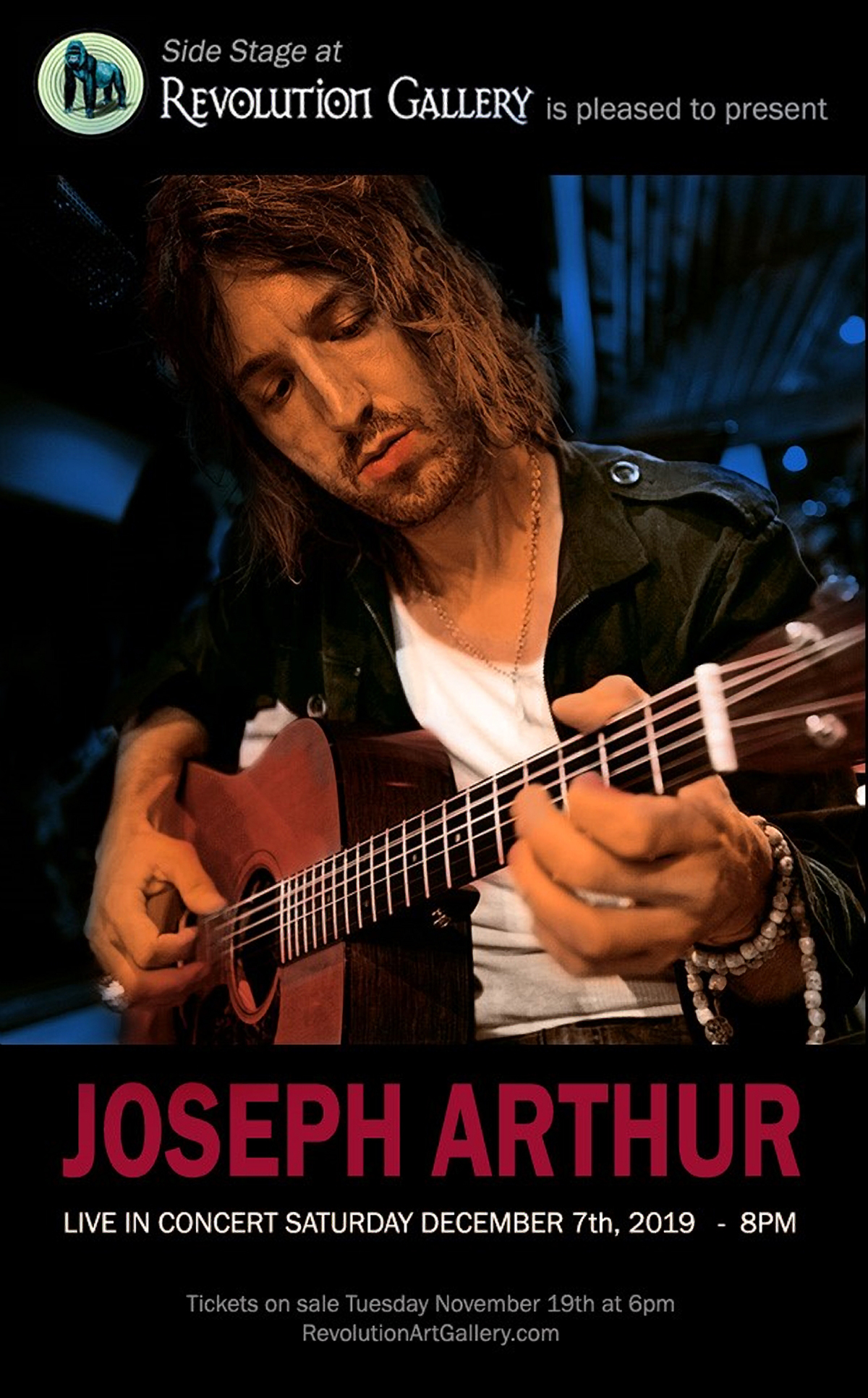 Joseph Arthur
Saturday, December 7th | 8:00pm
Revolution Gallery is pleased to present critically acclaimed singer-songwriter Joseph Arthur; he will be making his Buffalo, NY debut in our expanded gallery space on Saturday, December 7th, 8:00pm. Tickets to go on sale this Tuesday, November 19th at 6:00pm.
Blending the literate and expressive lyrical style of a classic singer/songwriter with music rooted in indie rock, Joseph Arthur is a well-respected songwriter and performer whose self-released EP made its way to Peter Gabriel in 1997, who signed Arthur to his Real World label. 1997's challenging Big City Secrets and 2000's rootsy Come to Where I'm From impressed critics and discriminating listeners, and 2004's Our Shadows Will Remain found him digging even deeper into his confessional tales. With 2007's Let's Just Be, Arthur launched his own record label, Lonely Astronaut, giving him greater control over his music as he recorded idiosyncratic projects such as 2013's The Ballad of Boogie Christ and 2014's Lou (the latter a collection of Lou Reed covers). 2015's Days of Surrender is an album recorded in Arhur's Brooklyn studio, and he played all the instruments, sang all the songs, and engineered the album.
Joseph Arthur acquired a Steinway Vertegrand piano from the early 1900s, moved it into his Red Hook, Brooklyn studio and saved it from the storm (Hurricane Sandy) by propping it up on cinderblocks, while the neighborhood flooded. He learned some of its history: the piano had been a part of the same family for a century, somewhere in Connecticut. Written entirely on that piano, The Family (Real World Records) is mostly a work of fiction and a meditation on the idea of family. The album was released June 3, 2016 to rave reviews.
In June 2018, Arthur released Arthur Buck, an album recorded with R.E.M.'s guitarist Peter Buck.
2019 saw Arthur release of full length solo album Come Back World, on his own label Moon Age Rebel – produced by Arthur and Chris Seefried. The album features vocals from Ben Harper, Jesse Malin, Marley Monroe
He is best known for his solo material, and as a member of Fistful of Mercy (with Dani Harrison and Ben Harper), RNDM (with Pearl Jam's Jeff Ament) and his collaboration with REM's Peter Buck for the album Arthur Buck
Arthur has built his reputation over the years through critically acclaimed releases and constant touring; his unique solo live performances often incorporate the use of a number of distortion and loop pedals, as well as live painting while performing.Arthur is also an acclaimed painter and designer. His artwork has graced the sleeves of his entire discography; the sleeve design for his 1999 extended play Vacancy was nominated for a Grammy Award for Best Recording Package.
TICKETS go on sale Tuesday, November 19th


Brown Paper Tickets Ticket Widget Loading…

Click Here to visit the Brown Paper Tickets event page.