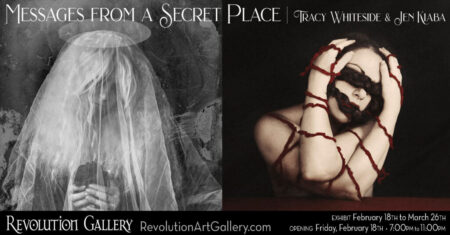 MESSAGES FROM A SECRET PLACE
Opening • Friday, February 18th  |  7:00pm to 11:00pm
"MESSAGES FROM A SECRET PLACE" —  our next opening is an exhibit by two conceptual digital artists – Tracy Whiteside and Jen Kiaba. Their dreamy, unsettling, and beautiful environments brings an individual perspective and uniqueness to the figurative dilemmas and situations they build. Both are photographers yet create very different visual outcomes. Opening starts at 7:00pm – Music by DJ Donut.
TRACY WHITESIDE –
Although a photographer since 2004, I waited until just recently to publicly share my penchant for surrealism and the darker side of art. My passion is creating dream-like images which are usually more like nightmares. I want my art to encourage people to take a break from reality. The images are intended to awaken the imagination of the observer.  Imagination leads the human race to invent, innovate, create, and problem solve.
Often my photos lay on the shadowy side of artistry. Some of the subjects I examine can be uncomfortable.  Life is sometimes uncomfortable. Even as a little girl, I loved all things that go bump in the night. It's possible that I have seen every scary movie ever made, but I have a strong preference for psychological horror as opposed to violence. A few of my favorites are Rosemary's Baby, The Haunting, and The Blair Witch Project. However, The Exorcist is the film that left indelible marks in my mind.
​Conversely, of late I have found myself inventing fantastical places with magical women. And while I am not a huge fan of fantasy movies or books, as a kid my favorite story was Peter Pan.  I think it's a safe bet that is the inspiration for all the flying and fairies in my work. We all need to escape now and then.
Currently, I am exploring what makes us human. Not our biology but our mind. I am focused on women: our experiences, emotions, hopes, and fears that make us who we are. Our spiritual beings. And our dark little hidey holes where we stuff the bad things.
JEN KIABA —
Jen Kiaba is an artist and educator who grew up in the infamous Unification Church, a religious group referred to by popular media as "the Moonies" and a primary example of a cult.
After escaping a forced arranged marriage, she fought her way out in her early twenties and went on to earn her BA in Art History at Bard College.
As an artist she uses photography to explore the failure of faith and the resulting loss of identity that occurs. Her work has been exhibited internationally, was a third place winner of the Julia Margaret Cameron Award, a top 200 finalist in Critical Mass, and an Honorable Mention in the 13th Pollux Award.
Since 2014 she has worked as an educator and mentor with various non-profits that sees to empower youth. She also writes and speaks about art, healing and their intersection.