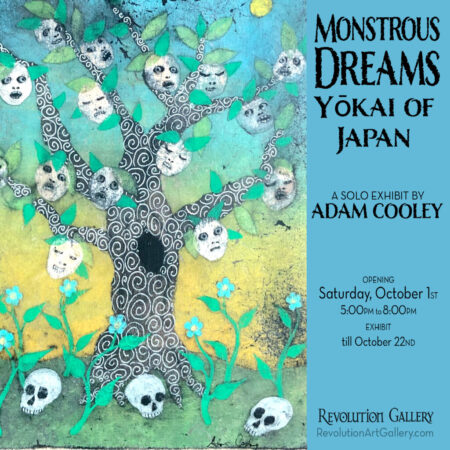 MONSTROUS DREAMS – Yōkai of Japan • A solo exhibit by Adam Cooley
Opening • Saturday, October 1st  |  5:00pm to 8:00pm
Revolution Gallery is excited to exhibit Adam Cooley's solo exhibit – Monstrous Dreams — Yōkai of Japan. From WNY, Adam divides his creative endeavors here, in North Carolina, and in Japan. 
 
Adam has an expansive repertoire which includes painting, sculpture, film, fashion, interior design, and performance art. His work is best known for its use of fantastic imagery and symbolism with themes ranging from dark and esoteric to light and playful. He has been featured in magazines, newspapers, books, and documentaries.
His works have been shown in galleries and museums around the globe, including here in Japan at the Tokyo Metropolitan Art Museum, Gallery Maronie (Kyoto), Gallery Chayamachi (Osaka), Daimaru Department store (Kyoto, Osaka), Gallery NAO (Roppongi), Oxford City Council, Town Hall, Oxford, UK, Hankyu Department Store (Osaka), Artglorieux – Gallery of Osaka, and Artglorieux – Gallery of Tokyo (Ginza) to name a few and are held in private collections worldwide.
ARTIST STATEMENT
My artwork comes out of an endless stream of imagination. As I engage in the world of reality, there is another complimentary world in my mind. Creation becomes a conduit to places no person has tread. From across the seas of my subconscious, creatures, cities, and worlds spring forth. I create a bridge between the worlds with canvas, paint, wood, and fiber. The viewer becomes another anchor point in reality and each piece of art I shape and create contains a piece of myself. Transformation, the passage of time, fantastical creatures, and symbols are common themes in my work. 
ABOUT THE EXHIBIT
Adam Cooley spent 30 years living in and exploring Japan and Asia.  "Monstrous Dreams – Yōkai of Japan", is an exploration in the rich mythology of Japanese monsters and gods as interpreted from a unique Western perspective.