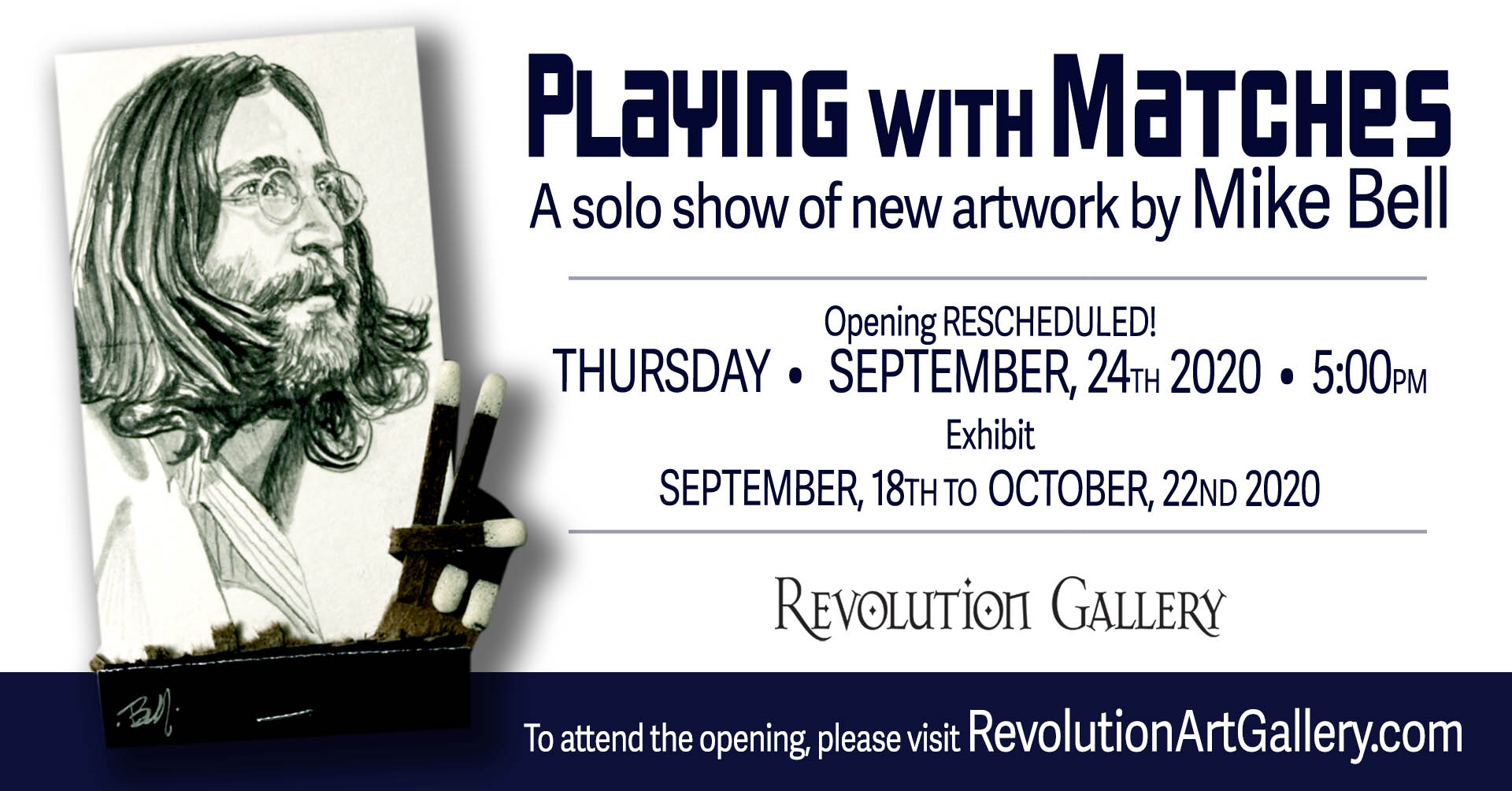 Schedule Your Visit!
MAKE A RESERVATION to attend "Playing with Matches" – a solo show of new work by Mike Bell
RESCHEDULED FOR Thursday  •  September 24th  •  5:00pm to 8:00pm
"Playing with Matches" Mike Bell's solo show of new artwork opening reception is rescheduled to Thursday, September 24th, 2020. Although a bit different than openings in the past, Revolution Gallery is looking forward to having visitors!
COLLECTOR'S PREVIEW
As a valued collector of Revoluton Gallery, we offer you a PREVIEW prior to the new exhibit "Playing with Matches – Artwork by Mike Bell" being revealed at the opening at 5:00pm, Thursday September 24th.
The exhibit is a collection of graphite pencil drawings on matchbooks – new work of iconic pop culture imagery, resulting in offbeat, humorous, and lowbrow visual commentary.  
Classic monsters, science fiction, vintage toys, MAD Magazine, pin-ups and Japanese cartoons are among the cultural forces of Bell's youth that find their way to the end of his paint brush to tell a figurative story and give us an outcome that can be pretty weird, yet ultra cool. In recent years, Mike Bell has also created a unique gallery – drawing black and white pencil portraits of iconic celebrities on matchbooks, while using the actual matches in the display. Borne of an act of random bar doodling, his matchbook art has become increasingly popular. Currently, approximately 40 of Bell's matchbooks are touring the Ripley's Believe It or Not! Museums. His take? "Everyone likes to play with matches."
To ensure a safe and enjoyable visit for all. Please reserve your block of time on the calendar on this page for the opening from 5:00pm to 11:00pm. If attending with friends / family, EACH PERSON MUST SCHEDULE THEIR OWN TIME FRAME so we may safely have only 8 people in the gallery for each of the 25 minute time blocks (9% of the gallery's capacity), to ensure a safe and enjoyable visit for all.
During your visit, view our ongoing, rotating collection of artwork throughout the gallery as well. Wine, beer, cocktails, and food are available for purchase at our wine and beer bar and from our café menu. Each reservation will last 25 minutes, so the staff has time to clean and disinfect prior to the next booking. 
Please note that all guests will be required to properly wear masks when moving throughout the gallery. Masks may be removed when visitors are seated at their designated table to enjoy their drinks and food. 
Tables are also setup on the patio – appropriately spaced for social distancing – so patrons may enjoy a glass of wine, craft beer, or cocktail (or order food from our new cafe menu) prior to their scheduled reservation inside the gallery. Please read Revolution Gallery's requirements and guidelines for visiting.