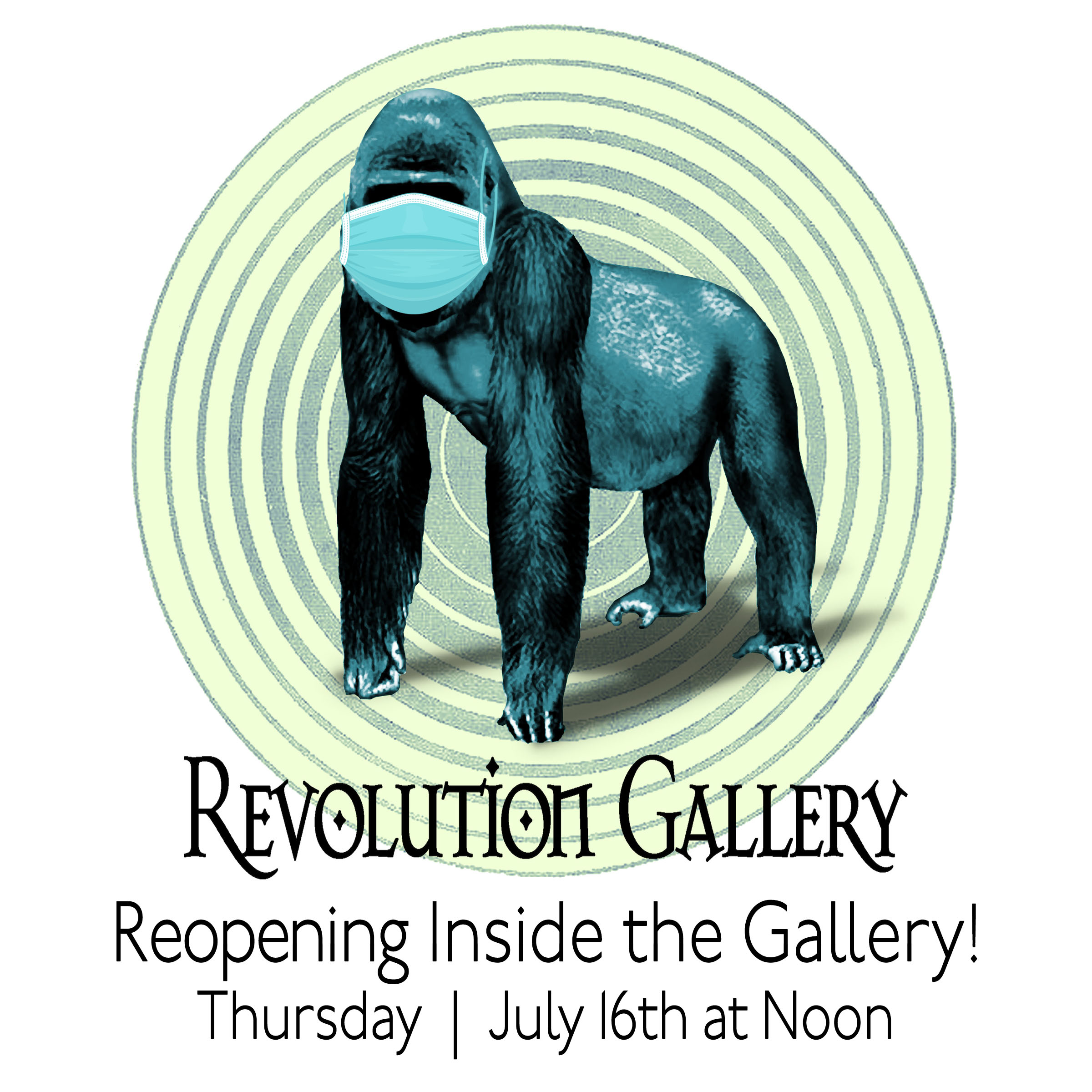 REOPENING UPDATES and THANK YOU!
THANK YOU!!
To begin, Revolution Gallery is grateful for all of you, and we thank you! Thank you for supporting the gallery and our artists by continuing to add to your art collection, for your attendance and generous donations during our Retro Rewind online event, and for your purchases of our new curbside pickup orders. We have missed our patrons / customers / regulars / visitors, and are excited to see every one of you again. 
---
WORKING TOGETHER FOR ALL OF US
We value and are committed to our community. While at Revolution Gallery, your wellness and safety is paramount. There are new, necessary and essential items we have put in place to to comply with the local and national requirements. These need to be followed to minimize risk, and keep everyone safe during the COVID-19 pandemic. 
Active participation from you is necessary for your protection, and that of our staff and fellow visitors. Please read the reopening requirements and policies.
GALLERY RE-OPENING, ART, and SOCIAL DISTANCING
On Thursday, July 16th, Revolution Gallery will be welcoming the public inside the gallery to view artwork for the first time since early March. Our hours will still be noon to 8:00pm, Thursday, Friday, and Saturday, with the café opening for patio seating from 5:00pm to 8:00pm. To maintain social distancing, and for the safety of our guests / patrons / staff, we will be limiting the amount of people who may enter the gallery at once.
TO ENTER THE GALLERY YOU MUST BE PROPERLY WEARING A MASK, OR YOU WILL POLITELY BE DENIED ACCESS. This means that everyone needs to be masked. If you do not have a mask, you are welcome to purchase a "one-time-use" mask from the gallery. Our staff will be continually cleaning and disinfecting doorhandles and surfaces, the restroom, and monitoring all activity so we maintain compliance with NYS and Erie County's safety protocols. We appreciate the cooperation of all, and are looking forward to welcoming everyone back. 
Revolution Gallery's current exhibit "Drawn Out" is our second show during this pandemic –we encourage social distancing when viewing the artwork, which is installed in the windows in the front of our space. Our show installed in the gallery  is "Recollection," – this exhibit had three more weeks in its run when we closed for NYS on Pause. To respect our artists in this show, we will continue to have the exhibit up until July 31st.