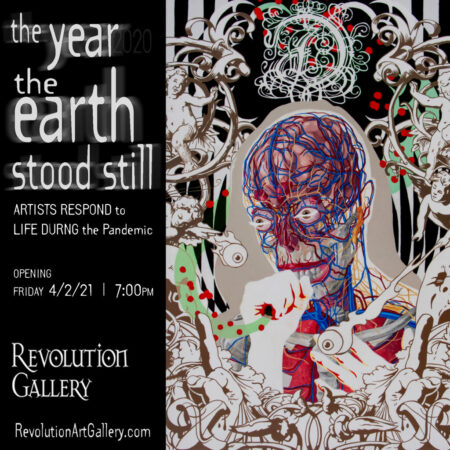 THE YEAR THE EARTH STOOD STILL – Group Exhibit
Opening • Friday, April 2nd  |  7:00pm to 10:45pm
"THE YEAR THE EARTH STOOD STILL: Artists Respond to Life during 2020"
Artists were asked to visually depict their surroundings / feelings / observations of this last year that had the entire world stand still. Lockdown, isolation, health concerns, overwhelming loss, and social and political turmoil made its way into each of these pieces. Join us at this opening to view these personal responses to an event that affected each of us. 
ARTISTS IN THE SHOW
Alayna Maryrose, Alex Kuno, Alan Pollack, Barry Fitzgerald, Ben Matthews, Danielle Saeva, Dave Rabideau, Ego, Erin Ruffino, Gerlanda di Francia, Herman James, Jackie Cassidy, Keight MacLean, Kelly Reed, Kim Parkhurst, Kristen Egan, Laura Prohn, Marc Roche, Maryann Held, Michael Reedy, Nora Thompson, Rob Don, Sara Wilson, Tracy Whiteside, Tricia Butski 
When visiting Revolution Gallery, all requirements and regulations (mask wearing, social distancing, etc.) regarding Covid 19 still apply.
The opening will be dependent on Covid19 Regulations in NYS. Either in person (socially distanced, very limited seating, timed-reservations only), and / or as a virtual event. Currently, we are allowed to have guests in the gallery, so please make your reservations per the calendar on this page. These blocks of time limit the amount of people in our gallery, and gives staff time between the visits to clean for the next small group. Proper wearing of masks is required, as are temperature checks and the use of hand sanitizer at the door. We thank you for your compliance with these regulations, as it is assisting in keeping everyone safe.