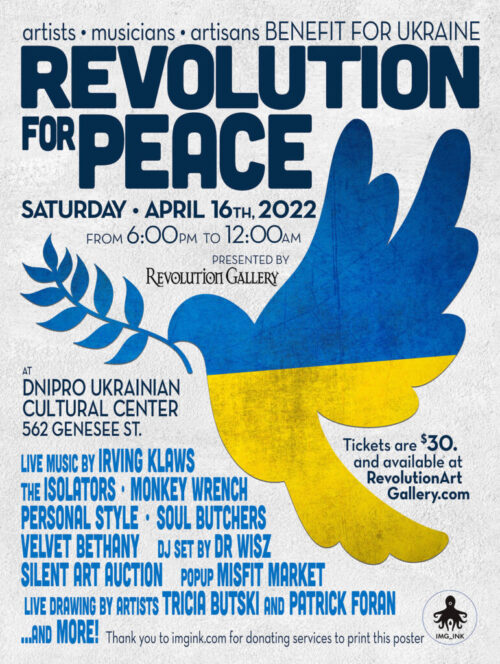 REVOLUTION FOR PEACE ART AUCTION
artists • musicians • artisans BENEFIT FOR UKRAINE
Thursday • April 28th, 2022  |  6:00pm to
Saturday • April 30th, 2022 | 8:00pm
BID ON ARTWORK IN OUR SILENT AUCTION – (PLEASE SEE INFO BELOW).
BID ON THE ARTWORK
To bid on artwork, you will need to register / create an account. Please find that registration page HERE
AFTER REGISTRATION – ACCESS THE AUCTION HERE.
We thank everyone and were thrilled for all who attended and / or donated to our Revolution for Peace – artists • musicians • artisans BENEFIT FOR UKRAINE! 
There are still several available pieces of artwork from the art exhibit /  silent art auction of  local and national artists we held at Revolution for Peace. In addition, artists Tricia Butski and Patrick Foran each created artwork during a four-hour live drawing / painting session during the event. Both these pieces are being auctioned as well. 
We will have a  silent auction on our website so collectors may place bids between Thursday, April 28th at 6:00pm to Saturday, April 30th at 8:00pm. If there is artwork remaining after the auction, Revolution Gallery shall have this art available on our website, and at our gallery. Proceeds to benefit the The Ukrainian American Freedom Foundation (UAFF) is an IRS recognized 501(c)(3) non-profit charity. This will provide Humanitarian and Medical Aid to War Victims in Ukraine.
Participating artists are Emmett Baggett, Kristin Brandt, Ally Burke, Lukia Costello, Thea Duskin, Barry Fitzgerald, Frank Forte, Chris Galley, Katie Gamb, Anastasiya Gutnik, Ed Hallborg, Felice Koenig, Sonja Llamas Baños, Craig LaRotonda, MJ Myers, Michael Mararian, Jon MacNair, Michele Melcher, Maria Pabico LaRotonda, Omit, Charlie Powell, Arabella Proffer, Daryl Reding, Paris Roselli, Erin Ruffino, Tara Sasiadek, Satan Beetle, Kathryn Streeter, Jeannine Swallow, Lindsay Utnik, Cheri Vogelbaum, and Julia Williamson… and more!
If any artists from the above list do not have artwork in this silent auction it is because their contributions were purchased in person at the Revolution for Peace benefit!
The event had incredible music performances by Irving Klaws, The Isolators, Monkey Wrench, Personal Style, Soul Butchers, and Velvet Bethany (order of performance to be announced), and DJ sets by Dr Wisz.
Revolution Gallery's pop-up Misfits Market will have our regular vendors, and a few new ones! Art After Death, Gutter Pop Comics, Jeanine Swallow, J Savage Goods, Florian and Felix, and Nickel City Alchemy.
And, of course, the art auction.