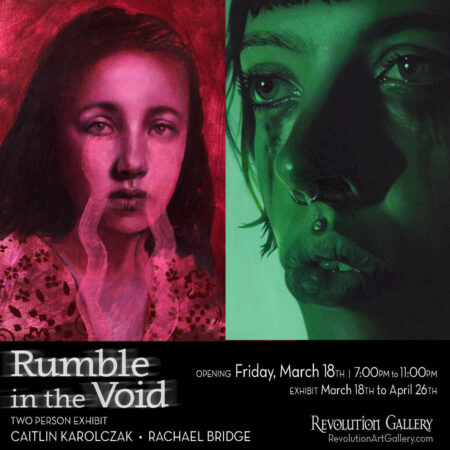 RUMBLE in the VOID – a two person exhibit with Caitlin Karolczak and Rachael Bridge
Opening • Friday, March 18th  |  7:00pm to 11:00pm
Revolution Gallery's next opening reception is Friday, March 18th • 7:00pm to 11:00pm – RUMBLE IN THE VOID; a two person exhibit with Caitlin Karolczak and Rachael Bridge.
Meet NYC / Minneapolis based artist Caitlin Karolczak at the opening.
DJ Dr Wisz will be spinning his Underground Lounge set of acid jazz / trip hop
RACHAEL BRIDGE –
Rachael Bridge is an artist from New York whose oil paintings have gained notoriety in the dark art movement. Rachael's style is a unique take on traditional portraiture, which she warps to create an otherworldly, dreamlike aesthetic. Her works often resemble film stills, offering a snapshot of the protagonist during a moment of a deep, ominous trance. There is a wealth of emotion in the eyes of Rachael's sinister characters, and their harrowing stories are told in their luminous gazes. Each delicately rendered painting is a deeply personal, and unique manifestation of her own  narrative. Rachael currently lives and works in New Jersey.
CAITLIN KAROLCZAK –
Caitlin Karolczak was born on Minnesota's Iron Range. She attended the University of MN at 16, where she received a BFA in Fine Arts and a BA in Art History with an emphasis in 19th century medical photography.
Subsequently, she founded her studio in NE Minneapolis where she first began to paint in oils. Through repeated experimentation and personal study she has become self-taught in a multitude of classical painting techniques.
In addition to painting Karolczak pursues installation, sculpture, and performance art, often incorporating objects of biology and antiquity from her personal collection.
Karolczak has exhibited internationally in Bogotá, Vancouver, New York, Miami, Minneapolis, Belgium, Germany and more. Her work is in numerous collections across the US as well as Australia, South America, UK, Canada, Israel, and South Africa. She has been interviewed by art publications in Australia, South America, Croatia, and the USA.