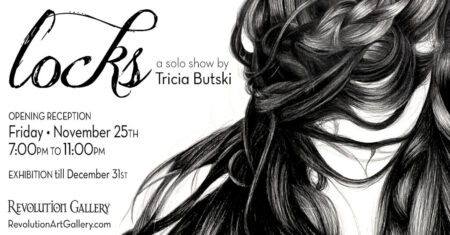 locks – a solo show by Tricia Butski
Opening • Friday, November 25th  |  7:00pm to 11:00pm
We welcome back Tricia Butski to Revolution Gallery for her first solo show in almost two years. And, her exhibit celebrates the gallery's sixth year anniversary!
Artist Statement –
Locks is a series of figurative graphite and ink drawings. The bodies of the figures are absent, but the long, raveled hair describes the shape of their missing forms, like veiled apparitions. The hair, manipulated to express the body through a series of convoluted braids, twists, and locks, gives shape to individuals who are interconnected, but seemingly unaware of each other's existence.
The body and the face are left open, a lapse or pause in the composition, inviting the viewer to fill the negative space with their own sensibility or experience. If the hair is a tangled relation, a way of bridging the gap between subjects, then the subject itself has many possibilities: an opaque void, an opening to be filled, a pause between breaths. 
The individual forms are maternal figures locked in a state of transformation. Both body and vessel, a rift between fragility and security. As portraits, they express the power and vulnerability of an obscured identity: the elaborate structure of the hair threatens to conceal and efface them, even as it shapes a new and compelling facade.