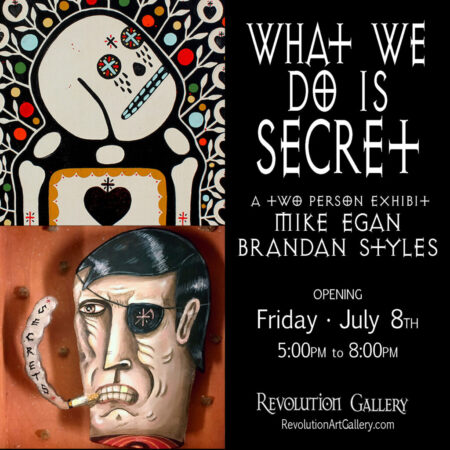 WHAT WE DO IS SECRET
Opening • Friday, July 8th  |  5:00pm to 8:00pm
Two Person Exhibit with Mike Egan and Brandan Styles
Revolution Gallery is honored to exhibit – for the first time — artwork of Mike Egan, and the return of Brandan Styles.
MIKE EGAN — A former funeral director and embalmer turned artist, Ohio based Egan creates artwork dark in nature, yet highly-saturated in color. These graphic, minimal pieces are complex in their use of symbols.
From his artist statement – "I was born outside of Pittsburgh, PA in 1977 (a reason why you'll find those numbers in my artwork). As a kid, I was really shy but eventually found art that helped me find my voice. I would trace cartoons, skateboard graphics and album covers. I can recall drawing Guns N Roses "Appetite For Destruction" many times in sixth grade or sitting in church every Sunday doodling on whatever paper I could find. I took art classes throughout high school and decided to pursue a degree in fine arts after school. I went on to college at Edinboro University of Pennsylvania, two hours north of Pittsburgh. I focused on printmaking at the time, which is where I learned about artists like Jose Guadalupe Posada and the German Expressionists like Kathe Kollwitz. I loved woodcut printing as it offered bold black line work and a graphic quality that I'd later use in my paintings."

BRANDAN STYLES — His artwork is a thematic marriage of light and dark, of inner spirituality and of religious contradiction. Colorado based, but currently traveling and creating on the road – and all over the country –  Brandan Styles is a storyteller, tapping into the Universal Mythology that underlies and is within everything.
His work is about creating visual poetry through the language of mythology, symbols and characters. Inviting us to explore our existence further, to question everything, seek Truths and to not be afraid to go into the dark night. He Combines a mixed media technique of hand cut wood, graphic and rendered style of painting, flat and three dimensional elements, roughed, beaten, withered, aged, yet contemporary. The past speaking to us in the present.
Preview coming soon!