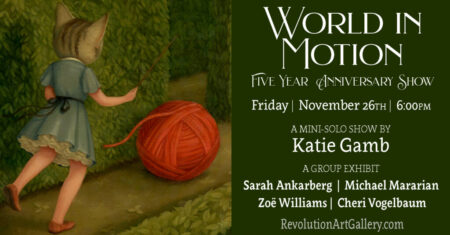 WORLD IN MOTION – Five Year Anniversary Show
Opening • Friday, November 26th  |  6:00pm to 9:00pm
A Mini Solo Show with KATIE GAMB
A Group Exhibit with Zoë Williams, Cheri Vogelbaum, Michael Mararian, and Saran Ankarberg
"WORLD IN MOTION" – our next opening has two exhibits of new artwork! A mini solo show with Katie Gamb, and a group exhibit with textile artists Zoë Williams, Cheri Vogelbaum, Michael Mararian, and Sarah Ankarberg. Come celebrate our five year anniversary with us on Friday, November 26th at 6:00pm! Music by DJ Donut from 6:00pm to 9:00pm
Preview coming soon!
Celebration continues with a set of high energy punk / country / alt / rock with gallery friends – Soul Butchers! Music starts at 9:00pm!
Please bring your vaccination card and ID / Excelsior pass – All guests need to be vaccinated to attend this event. We truly appreciate everyone's cooperation and support with this temporary policy –  we need to protect our staff and all our guests. Thank you all for respecting this, and helping to keep our community safe.